Ever wondered what happens when you sign up as a volunteer at SHARE:Frome? Once you sign up, either by sending us a Volunteer Application or coming into the shop to have a chat about how you'd like to help, here is a little guide on what a normal volunteering day at SHARE:Frome looks like!
What days and how long would you like to volunteer?
First, we will decide how long you'd like to volunteer each week and which days suit you best. We like to have our volunteers come for one open day each. It's good to have a set day, such as Saturday (our busiest day!) or you could alternate days, or even come in for several days if you have the time and enthusiasm!
Alternatively, if there is something very specific you would like to help out with, for example, social media, writing blog posts, creating a window display, flyering, sharpening tools, repairing electrics or PAT testing, you could volunteer just 1 or 2 hours per week!
Our library coding system
On your first day, you will be inducted in the shop, which involves showing you how we code and store all of our (over 1000) items. Just like a library of books, we like to keep everything well organised, with each item and location clearly labeled so we can find things easily. Our volunteers help us to keep this system working well, by relabeling and reorganising items so that we make the most of the space we have.
Our online loaning system
Next, you will be shown our online loaning system, Myturn, which is how we carry out borrows for our members. You will be shown how to add new items that have been donated, putting item listings into maintenance when they are broken or need a PAT test, as well as making sure each each item listing has a good, clear description and image. We also like to link a PDF manual to all the items that need it, so that members can use the items correctly
Welcoming customers and checking over items
You will also be welcoming and talking to our members as they borrow and return items. When someone loans an item, you will need to check whether is it has all it's parts/attachments, and checking it over when it gets returned. We like to ask our members whether it worked well, if the manual was helpful and if it needs a clean.
Keeping the shop presentable!
You will also be making the sure the shop front is presentable! Updating our shop sign every few months, choosing our item of the week to display, as well as dusting items, vacuuming the shop and watering the plants! We have a selection of items from each of our 10 categories displayed, so keeping these displays new and exciting is also great!
Free subscriber membership
When you join as a volunteer, after a 3 month probation period, we will offer you a FREE subscriber membership, which saves you £3.33 a month, but also gives you 25% off all borrows. See this post for more on this membership.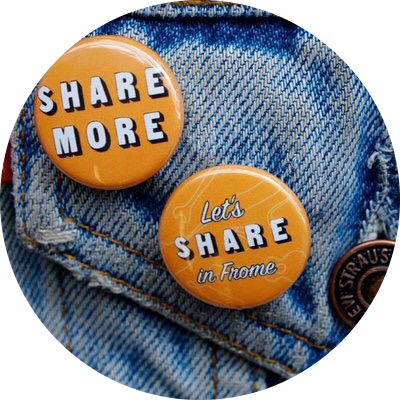 A Library of Things.
Want to hear more about of our amazing community?
Sign up below to receive our newsletter & receive updates.