Reserving items can make borrowing much easier, as it ensures the item you want is available for you when you are ready to collect. Great for planning a holiday in advance or booking a carpet cleaner that's in high demand! Here's a guide to reserving on our website:
You can make a reservation online by signing in, (sign up here if you haven't already) browsing the catalogue, and clicking 'Reserve' on the item that you want. You will then be prompted to select a date on a calendar. If you want to add more items to this reservation, simply keep pressing 'Reserve' on the items you want and they will be put in your Reservation Cart, a little image of a cart in the top right corder. To complete the process click 'Complete Reservation'.
You will need to reserve any consumables as extra along with your item. See the item descriptions to see what is required. For example, the bubble machine requires bubble fluid. Simply add this to your reservation and we will have it ready for you. We will only charge you once for the consumables, not as a per-day price.
There is no maximum borrowing/reserving time. The likely loan length is factored in to the per-day price. Items such as reusable nappies, for example, are more likely to be borrowed for longer periods of time and so their per-day price is lower to account for that.
There is no limit to the number of items you wish to borrow! However, if you do not turn up to collect your reservation, you will still be charged a non-collection fee, the price for the loan. This is because by reserving the item you will have made it unavailable for any other member to reserve during that time. If for any reason you envisage that you will not be able to make your collection slot please let us know in good time in order that we can rearrange or release the item back to the catalogue for others. You can either call us during open hours on 07983639611 or email us outside of open hours on [email protected]
To cancel your reservation, log in to your account online, and click on your username in the top right corner. Click on 'Reservations'. You can then find the reservation and click 'Cancel'. If you are unsure, drop us an email or give us a call during our opening hours.
We have also put together a guide to reserving on your mobile phone here.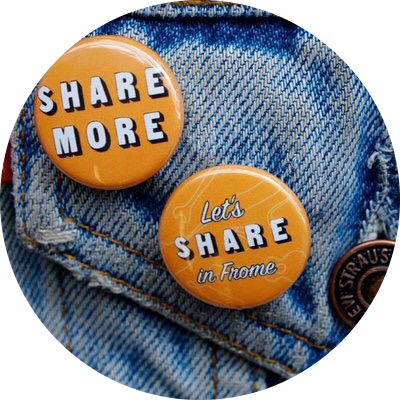 A Library of Things.
Want to hear more about of our amazing community?
Sign up below to receive our newsletter & receive updates.