Let's see how much we can save from landfill…
Our next repair cafe is only 2 weeks away on February 23rd! Time to gather up any small items that need repairing or could just use a little love to look good as new.

Not in need of a repair? Come along and enjoy some good company and an upcycling demo from Aliss. Our fantastic fixers will be on hand and can answer your questions about all kinds of repairs. Chat to them about what you'd like to learn and come away with some top tips.
Why repair?
Repairing all kinds of items is helpful in so many ways. It saves you the cost of buying a new one, and means you can stick with something you know and love. It's an important part of individual action against the climate crisis – keeping items away from landfill and reducing the demand for new stuff to be produced.
And it can give you a story to tell about your items! Visible repairs on textiles (and more!) put the story front and centre by giving things a new look.
---
How can I help?
If you'd like to help us fix more stuff, there are a few ways to get involved. We're always looking for skilled fixers. If you can fix electrical items, furniture, clothing, do bike maintenance or something brilliant we haven't thought of – get in touch!
You can also volunteer to help run the event by welcoming people, tracking what we fix or taking photos of successful repairs. And of course, you can donate to help us keep events like these going.
---
See you there!
The next repair cafe is Sunday, 23rd February at the Welsh Mill Hub, Park Hill Drive, BA11 2LE. Get in touch beforehand if you want to check we can repair an item.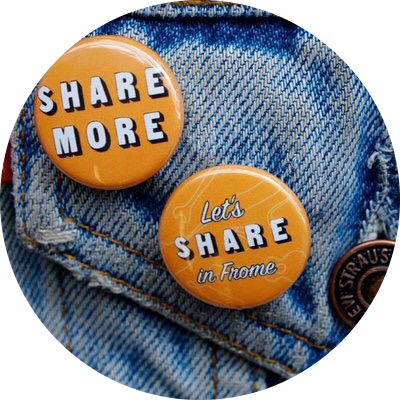 A Library of Things.
Want to hear more about of our amazing community?
Sign up below to receive our newsletter & receive updates.
Read More