Do you have gifts tucked under the bed or thrown in a cupboard that weren't quite right for you? Stop feeling guilty and find them a new home!
We'll be holding an "unwanted gift exchange" this Saturday from 10am-12pm at Frome Town Hall. You can bring, swap and buy items to find new things that fit you and see neglected gifts snapped up by others who will use them.
All kinds of small, quality items in new or good condition are welcome. There will also be plenty to buy for a small donation to SHARE if you'd like to come along empty-handed and find an unexpected treasure.
You can drop items off to Frome Town Hall in advance or bring them on the day. We've already had some great items dropped in, such as this unused bag and scarf 🌟
For anything you bring, you'll be able to swap each item for something else. You can also donate items at the town hall and we'll sell them for donations to help SHARE grow.
Gather up your unwanted gifts and come along! We'll have the kettle on and some biscuits out ready for you.
P.S. Frome Town Hall is also a drop off point for Re:Fresh Frome, who take unwanted toiletries to donate to disadvantaged young people in Frome.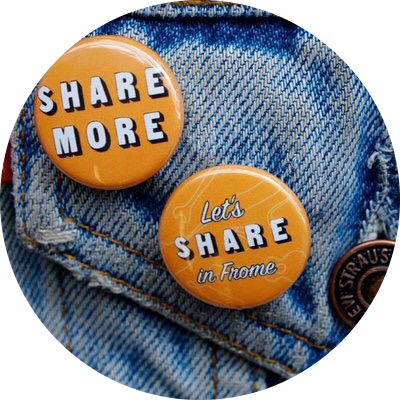 A Library of Things.
Want to hear more about of our amazing community?
Sign up below to receive our newsletter & receive updates.
Read More