Curious about the borrowing process with SHARE?
Once you have become a member here and reserved your item through our catalogue (here is a tutorial on how to reserve), here's what you need to know for check ins and check outs.
When you check out:
When you arrive to collect your item, make sure to give it a once over to check that you are happy with the condition and are sure you know how to use it. If you are unsure, many of our items have PDF manuals that can be found on their listings on our website.

If you have signed up as a member online, we will need to check your ID for your first borrow and ask if you would like to sign up to our monthly newsletter.

We will then confirm the duration of your loan time and calculate the loan cost. For more details about our borrowing fees please check this post
When you check in:
On returning your loan we will ask you a few questions about your experience: Did it work well? Is it broken? Is it clean? Was it easy to use / did you need a manual?
We can then determine its return condition and if there were any issues pass them on to our fixers to make sure that everything stays in great shape.
A few other things to note…
Non collection and late fees:
If for any reason you do not come and collect your item at your arranged time you will still be charged for the loan. This is because by reserving the item you will have made it unavailable for any other member to reserve during that time.

In order to make the service run as smoothly as possible for all members, any item(s) not returned on time will be charged at double the loan fee for each day that the item(s) are not returned. It is therefore very important that you contact us if you feel you won't be able to get your item(s) back on time.
Cleaning and loss or damage fees:
We are unable to provide a cleaning service due to lack of facilities so we are relying on each borrower bringing the item back as clean as possible. If an item is deemed to have been returned in an unsatisfactory state you will either be asked to take it back home and clean it before returning it later the same day or be issued a cleaning fee of minimum £5.

We ask borrowers to flag any damage they notice as soon as possible. This kicks off the repair process and also ensures the next borrower is not let down. To do small repairs like unblocking the pressure washer or replacing the jig saw blades, our small team of local volunteer fixers will try to do simple fixes. When an item is beyond a quick fix, we decide whether it is more efficient to have it professionally mended or simply to donate/sell or recycle it. We understand that items will break eventually and we don't charge members for these types of breakages. However, we do reserve the right to charge for items that are deemed to have been broken by serious misuse or neglect. If this is the case and the item is beyond repair the member will be asked to either buy a replacement or pay the replacement cost.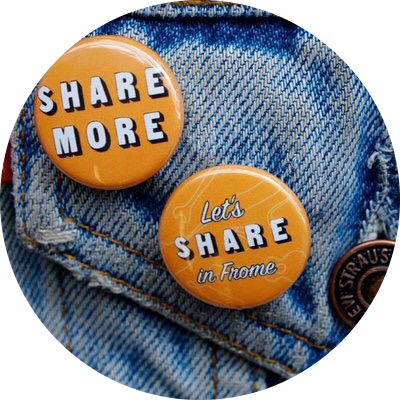 A Library of Things.
Want to hear more about of our amazing community?
Sign up below to receive our newsletter & receive updates.
Read More