At SHARE:Frome we've been shining a light on the more unusual items that fill our shelves, some items that since working here I was surprised to discover whilst searching for other things to fulfill peoples orders. One in particular I've been wanting to borrow was a ice-cream maker. With this scorching heat not much could be better and with it being incredibly simple to make you can even get your kids involved with some personal flavours of choice.
Trying to make the most out of the still bright evenings a movie night outside is an activity for everyone. We have multiple projectors and large screens to go with them, not to mention our popcorn makers for a cinema snack as you relax on our inflatable lounger, sipping cocktails you made using our rather swanky copper cocktail set.
One last item that I believe could make this heat easier is a nice light meal and one easy favourite for many people is pasta. The ingredients are cheap being mostly just flour and eggs but it can be a struggle to roll it out flat and cut it into your desired size. Luckily we have a pasta maker that can do the hard work for you so it won't be long before you've made up a batch of your favourite kind. It even does Ravioli if you want to treat friends and family to something special.
We have all sorts of weird and wonderful items in our Library of Things so why not scroll through our site and take a look as you never know what you might find to take you on your next SHARE adventure.
Dom Boddy
SHARE Shop Assistant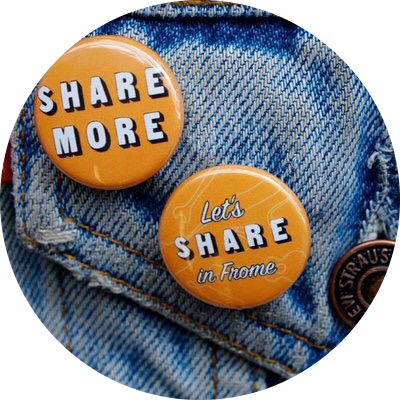 A Library of Things.
Want to hear more about of our amazing community?
Sign up below to receive our newsletter & receive updates.