We are excited to announce that we will be offering the option to send gift certificates to friends and family! A great zero-waste and eco-friendly way to tell them you love them this Christmas and all year round! We are offering amounts from £5 to £50. Your loved one can use this, not only on borrowing items, but also for renewing their SHARE:Frome membership!
To Send a Gift Certificate
Simply login to sharefrome.org, or if you are not a member, go to https://share.myturn.com. You do not need to be a SHARE member to send a gift certificate, but if you are a paying member, it will make it easier to make the payment, as your card should already be saved. To start, click on the small gift icon in the top right corner of the page.
This will bring you to the Gift Certificates page. Here you will be able to fill out the form, selecting how much you would like to gift, and to whom. You will only need to provide the name, email and message. The recipient does not need to be a SHARE member for you to send it, but they will need to be a member in order to use the gift certificate.
To make the payment, you can use the card that is already saved on your account if you are a member. If you are not a member or do not have a card saved, once you have filled in this form, you will be brought to a form to enter your card details.
To Redeem your Gift Certificate
Once the gift certificate is sent, your recipient will have an email with a long digit code, which they can then redeem on their SHARE:Frome account. Once logged in or signed up, simply go to My Account, then Redeem Gift Certificate and here they can enter the long digit code. The credit will then be added to the recipients account!
If you have any trouble, please call us on 07983 639611 during our opening hours, Monday and Friday 10.30am – 4pm.
Happy Gifting!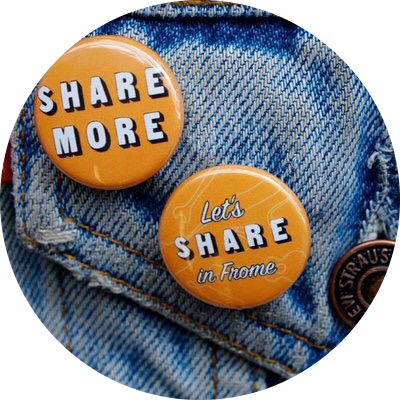 A Library of Things.
Want to hear more about of our amazing community?
Sign up below to receive our newsletter & receive updates.