UPDATE 02/11/2020: With the announcement of a nationwide lockdown from Thursday 5th November we will be pausing the Drop-in service. However, our Click & Collect service will resume. Details on our Click & Collect page.
We are excited to be extending our Click and Collect service, launched post-lockdown, by adding a 'Drop-in' service!
We are now offering the option to drop in and borrow without the requirement to reserve in advance.
We recommend you reserve in advance to guarantee your item is available, but it is now possible to drop in and borrow on the day as well!
There is still no shop browsing but you can pop in to our booth inside the door to say hello, request items to borrow or sign up on Mondays and Fridays, between 10:30am and 4pm!
Browse our catalogue here: https://sharefrome.org/things/
Sign up online here: https://sharefrome.org/membership/
Not sure how to reserve? Click here to watch our tutorial.
If you have any problems, please call us during our opening hours on 07983 639611 or email us at [email protected].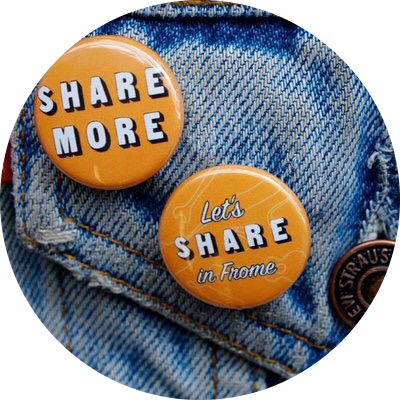 A Library of Things.
Want to hear more about of our amazing community?
Sign up below to receive our newsletter & receive updates.