You may remember last year, the national Fiver Fest came to Frome for one day to celebrate local business, but this year, it's here for a whole weekend on the 15th to the 17th October!
Part of the national Totally Locally campaign, it is an affordable way to support local businesses, often run by families or individuals, making a real contribution to our unique town. Spending just £5 a week in local shops can have a huge impact on our high streets, boosting the local economy and increasing employment, especially in our current situation. It's also a great opportunity to step into a shop you've never been before and discover what makes Frome's independents so special.
SHARE:Frome, our community started and run business, will be taking part in Fiver Fest and offering Standard membership for only £5, saving new members £10 off our regular £15 joining fee (see our membership plans)! This will pay for a year's membership! A great opportunity to start borrowing if you've only ever been curious about the funny little orange shop in town. This will only be available to claim on Friday 16th October, during our opening hours, 10.30am to 4pm. Either pop in or give us a call on 07983 639611!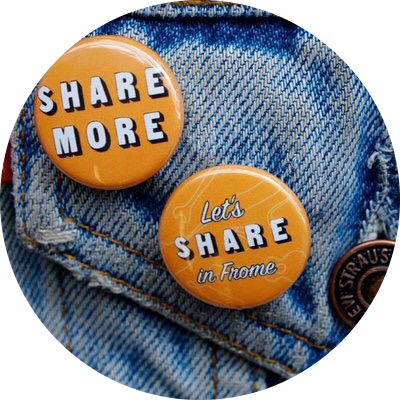 A Library of Things.
Want to hear more about of our amazing community?
Sign up below to receive our newsletter & receive updates.