Prior to 2015 there were no Libraries of Things (LoTs) in the UK. By the end of 2019 there were 12 of us and we all met up at the inaugural ShareFest. In 2020 I am going to try to visit every one of them, ask them a few questions and promote them in this series, 'Lots of LoTs'!
First up, in January I visited SHARE Oxford and spoke with Maurice…
When did you form? Why? -What was the inspiration behind it?
"We formed in the spring of 2018 and launched in Feb 2019.
"Alex was working with someone who mentioned the concept. She had been working on a circular collective taking things people were throwing out and trying to make use of them. It was as the project she was working on began fold that Alex was told about the idea of a Library of Things so she suggested it at a Community Action Group (CAG) meeting. It was there I expressed my interest in being involved. We started collecting things, found a space, began recruiting volunteers and launched!"
How is it going?
"It's going OK. We've had a general upward trajectory with plateaus and rises. Since launching we've upgraded our space. After certain moments such as that upgrade as well as after gaining publicity and running events we take upward steps before it plateaus again. We've just had a meeting about making the next step up. Everyone involved is satisfied that the concept works and we are all committed to it. We're happy and positive about the future. A little while ago we were still uncertain but we now feel we have shown proof of concept."
What are your 3 most borrowed items?
"Pressure washer, pressure washer and pressure washer! Also drills, sanders and, seasonly, gazebos"
Which item have you found to be the most surprisingly popular?
"The heat gun!"
And what is the most unusual one or most unusual request you've received?
"The flexible drill extension!"
What are your hopes for 2020 and beyond?
"A year from now we'd like to see the continuity of our regular repair cafe, have the library open more hours and days than at present, have more volunteers to make that happen and see an increase in membership and borrows.
"So we're aiming for slow, steady, sustainable organic growth. We all get on so well here, so part of main vision is to maintain the existing operating practice and relationships between one another.
"We also hope to have gone beyond our current ad-hoc methods of doing what it takes to make it work to being well-oiled and self sustaining."
SHARE Oxford Library of Things can be found inside Makespace Oxford at 1 Aristotle Lane, Oxford, OX2 6TP.
Visit SHARE Oxford's website, Twitter and Facebook.
I love that at SHARE Oxford you even get to borrow piece of mind … for free!
This month SHARE Oxford are celebrating their first birthday, so HAPPY BIRTHDAY! 🥳
Coming up I'll be featuring the other 11 existing Libraries (Bath, Belfast, Birmingham, Cardiff, Edinburgh, Frome, Guildford, London, Plymouth, Stirling and Totnes) and all others who launch from here on in. This series began with 12 and I predict we'll soon have lots more LoTs!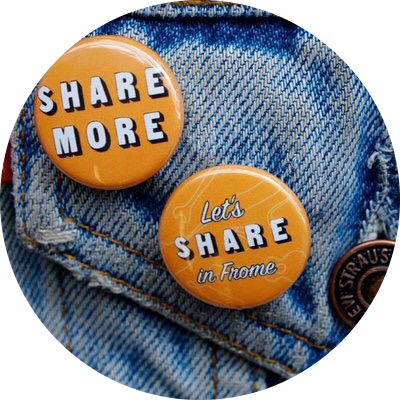 A Library of Things.
Want to hear more about of our amazing community?
Sign up below to receive our newsletter & receive updates.