This is the first in our new 'Luca Loans from a Library of Things' series.
Luca, 10, from Frome will be borrowing items from SHARE:Frome and submitting video reviews. Before he gets the first one in we should introduce you to Luca … and what better way to do so than via his application for a Blue Peter Green Badge:
Hello, my name is Luca and l am 10 years old. I live in Frome, Somerset. I like I.T./gaming, and recycling by making cardboard box forts.
I am applying for a Green Blue Peter Badge because I have been to many SHARE Repair Cafes and I also borrow things from the SHARE Shop instead of buying them.
The SHARE Repair Cafes are events where lots of people come to get their broken things fixed by people with skills. So far, they have inspected over 200 items, weighing nearly 400kg and saving over £9000 if these broken items had to be replaced new!
Its very useful because we don't have to bin as many things which is good for the planet and you don't have to go and spend more money than you need. Also you get to learn life skills there and meet new people.
The first Repair Cafe I went to was to fix my domino train (a tiny train that lays dominoes in a trail/line so that you can knock them over).
It had stopped moving and I thought I would have to immediately bin it. Mum told me about the SHARE Repair Cafe and that I could try to fix it, so I said, "yes I would like to go and do that".
So she took me and Paul fixed it (and I learned some skills). There was a string stuck inside the mechanism and we just unscrewed it and took the string out and the train worked again!
There was some free food there as well. Like cake!
After that, we fixed our Acer laptop. It kept on overheating so the man took it home and the next time we saw it, it was working faultlessly! He told us that he had replaced the thermal paste for us. I learned that computers have thermal paste to stop them from overheating.
2nd Repair Cafe
Then, the next time, was the worse of all times of the broken things. My only working headphones wire had snapped – dun dun DUUUUUN!
So, we took them to the Repair Cafe and a man soldered it together with his soldering equipment and he showed me how to solder. Soldering is like melting a bit of metal to join wires together to make a circuit. It's practically like making glue out of metal – just stronger.
Afterwards, Aliss showed me how to make a lunch bag for fruit out of recycled tents (that she had scavenged from Glastonbury festival).
The tents would have gone to landfill if Aliss hadn't saved them. So we were upcycling them.
Also, Aliss showed me how to use a sewing machine. So, I learned a new life skill. Now, I put my snack in the bag I made every day and take it to school.
Aliss also taught my Mum how to fix her dresses on the sewing machine and how to make bunting out of the tents for my den in the garden.
I think that it's an amazing thing that they have done making a SHARE Repair Cafe and Share Shop because it is going to make everyone's eco footprint go down. Also people will learn life lessons like how to fix their stuff next time. Also its a good way to meet loads and loads of new people from throughout Frome and you might be surprised and make a new best friend.
Aliss also runs the "Light the Night" lantern parade in Frome which is where everyone parades through town with lanterns in the dark with samba music and the Christmas lights get turned on. Aliss taught us how to make lanterns with willow branches, glue and tissue paper so we can join in.
Aliss also came to our school and I luckily got to help make the massive angel lanterns to be taken along at the front of the parade. I helped to make the head of one, it was difficult because we had to position the willow rings on a template and then tape them together and they got bigger and bigger to make her head.
This year, we also went to a lantern making workshop and I made a little illuminarti lantern to carry in the parade. The parade was noisey and fun. We all parade with lanterns through the streets of Frome and then the mayor turns on the Christmas tree lights (but that's what they want you to think – there's really a man with a power box who switches on the lights when the mayor says to! He had a walkie talkie and an earpiece and was up a ladder!)
We also joined the SHARE Shop which is practically a library of stuff that you can borrow.
They say, "The average drill is used for only 13 minutes in its entire lifetime. What if, instead of buying that drill, you could borrow one instead?" (straight from their website). So they decided to put "A Library of Things" and you can rent them out to stop landfill and it's to stop you from having to buy unnecessary items.
The first item we borrowed was a metal detector and we went to the beach with it to see if we could find any treasure. I thought I could actually make some money out of that. (But we didn't!)
More recently we have borrowed a crepe maker and we had pancakes every day. My cousins came to visit and we all made crepes.
We also borrowed an electric bike which was a disaster we got lost in the woods and we got stuck in the mud! But we did have pizza when we got to our destination!
We have also borrowed a football table that I beat Mum at basically every time! At the moment, we have borrowed a massage chair and on Monday we are going to get a dehydrator and make fruit crisps. After that, I want to borrow the candy floss machine. But my Mum wants to borrow the inflatable kayak.
There is an indepedent market every month in Frome. Edventure MAKE students make ethical stuff to sell at that market. Last market, I bought a lavender-scented fish made from recycled materials. His name is "Bob." He is beautiful and really cute. lt is supporting the local economy, like in the Fiver Fest. In the Fiver Fest, local shops that sign up to it sell things for £5, it's to keep money local. We bought a meal at Nook, which I think is the best food in Frome and it fills every nook and cranny in your stomach!
So please consider me for a green Blue Peter Badge. Thank you
Luca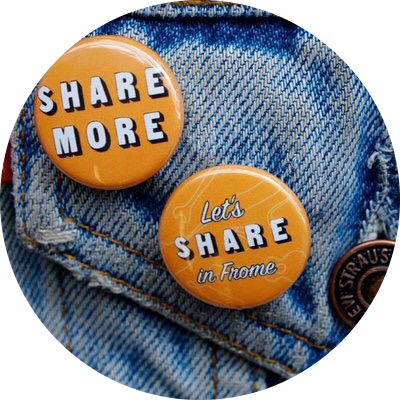 A Library of Things.
Want to hear more about of our amazing community?
Sign up below to receive our newsletter & receive updates.