Black Friday falls on 29 November this year, but it seems the deals start earlier each year as more and more businesses take advantage of eager shoppers. This year, SHARE is asking you to borrow instead of buying – and we're making it easier with one free borrow for everyone.
Black Friday can be a great opportunity to buy something you've been needing for a while at a better price. However, the biggest Black Friday deals are often electrical items, tech and other pricey goods. It might seem like a great price, but will you use it more than a few times a year?
You could save yourself a lot of money and have one less thing collecting dust in the garage by borrowing from SHARE. Check our inventory to see if we've got what you're looking for – or just choose something fun to borrow for free!
Whether you're a regular customer or completely new to SHARE, for one day only we're offering a free borrow to everyone. Borrow something practical like our new leaf blower or have a bit more fun with some kitchen equipment like our candy floss or popcorn makers (perfect snacks to take along to Frome's lantern parade and Christmas extravaganza in the evening). 🎄
You could even borrow one of our sewing machines to make some of your own Christmas decorations or gifts. Usually just 3 or 4 pounds to borrow for up to a week, you'd have to be an avid sewing fan to not save money by borrowing!
You'll also be participating in #BuyNothingDay – an international movement against over-consumption for the good of the planet. 🌍
Here's the "small print":
1 free borrow per member, only on items collected on 29 November
You must be a member of SHARE – if you need to sign up, please bring ID with you. See membership types here.
Borrow is for the standard loan length, which is up to 7 days for most items. Renewals will be charged at the usual loan fee
For items that require a cash deposit, the loan is free but the deposit will still need to be taken
See you on Friday!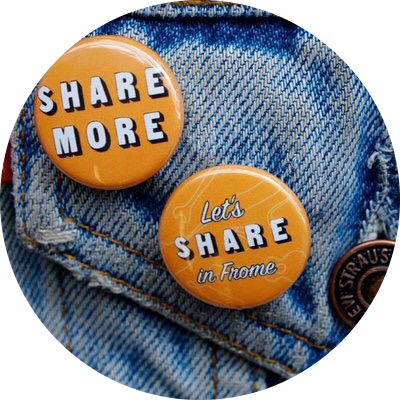 A Library of Things.
Want to hear more about of our amazing community?
Sign up below to receive our newsletter & receive updates.
Tags:
black friday
,
free borrow
,
offer