Don't start your Christmas shopping just yet! Get a head start on finding perfect gifts and saving money for the festive season with our first ever…
✨ Swap shop!
Come along to Frome Town Hall on Saturday 23rd November from 10am-12pm to swap gift-worthy items & planet-friendly alternatives to wrapping paper. This is a free event, with tea and cake available for a small donation.
Swap your items for others that would make great gifts for Christmas, birthdays, special occasions or even just for yourself – why not?
😇 Why swap? There are more reasons than you think…
No matter your motivation, swapping has a lot of benefits for you and others:
Save money on gifts and wrapping
Help the planet by reducing the demand for production of brand new goods & shipping
Smile knowing that something you swapped or made will brighten someone's day
Get unique gifts – handmade goods and items with history
Be part of the community. Why not bring your kids to show how important it is to share?
🎁 What should you bring?
If you think it could make a good gift, bring it along! You can also drop off things in advance to Frome Town Council if it's easier than bringing them on the day. Here are some ideas:
Preloved gifts (to be loved again)
Preserves
Indoor and outdoor plants and pots
Art & craft materials
Books, music and films
Handmade items
Household / Bric-a-brac
unopened and in date food items to include in hampers
lovely baskets, unusual containers, nice re-usable bags and jars to 'wrap' things in!
And after Christmas, come and find any neglected gifts a new home at our Unwanted Gift Exchange! More details to come…
Frome Town Hall is on Christchurch Street West, Frome, BA11 1EB. There is wheelchair access via the side entrance and a lift available to the first floor where the Swap Shop will take place. Please note parking is not available at the venue.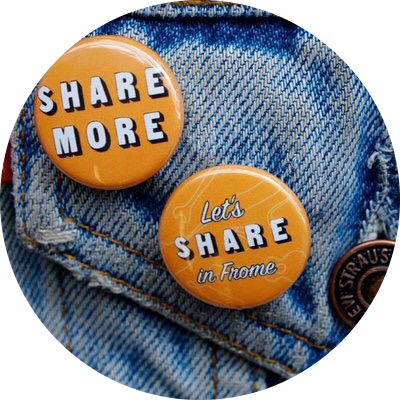 A Library of Things.
Want to hear more about of our amazing community?
Sign up below to receive our newsletter & receive updates.
Tags:
christmas
,
gifts
,
swap shop