This summer 5 university students began volunteering one afternoon a week at SHARE as part of a 10 week resilience placement with Frome Town Council. Not fully knowing what to expect we arrived on day one to learn a little more about what makes the shop unique and what types of customers borrow items. It was inspiring to see first hand the popularity of the shop with customers coming and going in small flurries throughout the day, intrigued to find out what else they could borrow.
Borrowing is an inventive solution to the ongoing problems with waste we as a society face. It was refreshing to see that not only is the shop helping to reduce landfill, but it also unites local business owners and residents to come together and support a common cause. The shop is more than just a borrowing space, it sparks a conversation about the importance of being aware of our consumption habits. In 2019, where advertisements for purported must have goods are aplenty, it can feel like you are never up to date with the latest trends or must have gadgets. However, that is where the SHARE shop steps in to allow you to try out items beforehand and simultaneously lend preloved goods. From parties to weddings to home renovations, the shop caters to a whole host of needs and relieves the burden of having to source storage space to house infrequently used items.
From a volunteer's experience, working at the SHARE shop has been rewarding, fun and at times challenging. As membership numbers have risen in recent months and donations flow in, there is the task of keeping on top of logging items, coding them and organising them into appropriate categories and locations. With an abundance of musical instruments, DIY tools, garden machinery and camping equipment, there is always something to be getting on with, whether that be assessing the condition of borrowed items or adding sponsorship tags respectively. One of the more challenging aspects of the role involved putting our teamwork skills into practice when setting up tents in a nearby meadow to check they had all their constituent parts intact. On one of the warmest days in the UK, we took to the local field, wheelbarrow in tow and got to work. It was satisfying to see the bell tent holding up and knowing how quick and simple it was to construct makes borrowing equipment even more appealing for special trips away.
It was quickly apparent that many customers value SHARE, not only for its diverse inventory of items but also based on the skills and knowledge it provides to locals. SHARE is predominantly volunteer run and relies on the goodwill of others to offer their skillsets to mend items or sort through stock. Volunteering costs nothing but gives back so much. In the short space of time we have been at SHARE, a fresh insight into this innovative community project has been gained and a newfound desire to share more acquired.
Tess, Claire, Bridie, Poppy and Emma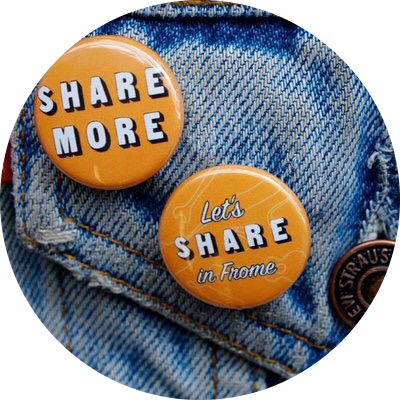 A Library of Things.
Want to hear more about of our amazing community?
Sign up below to receive our newsletter & receive updates.