We've ordered a series of new items that have just arrived in the shop! If you want to grab them, be sure to reserve them quickly as they are popular demand. See our opening times below or call us to make a reservation.
First, just in time for wedding season, we have several new and sturdier gazebo shelters, these are perfect for events and parties during the summer months.
Also great for events, we have a large disco ball, which can take your party to the next level, especially if there is dancing! For only £4.00 to borrow, that's a steal! And why not entertain the kids at the same time with our new bubble machine!
Another item that could save you a lot of money is our new PA system. A big step up from our portable PA system, with 4 large speakers and stands, and a control board, it is perfect for concerts, shows and other events. No need to buy or rent one elsewhere, when you can pay only £20.00 per week at Share.
For all you adventure lovers, we now have 2 new inflatable kayaks, whether you're starting out in the Frome river or taking it on holiday with the family, these are a great borrow-don't-buy item.
Lastly, for the kids, we have a brightly coloured wooden balance bike for 2-5 year olds, a great way to teach your kids to eventually ride a big bike. With dampened steering, non-slip grip handle with safety ends and soft padded adjustable seat.
So if you haven't got your Share membership yet or it needs renewing, pop in on a Monday, Wednesday or Friday between 10am and 4pm, or Saturday 10am to 12pm, or call us on 07983 639611.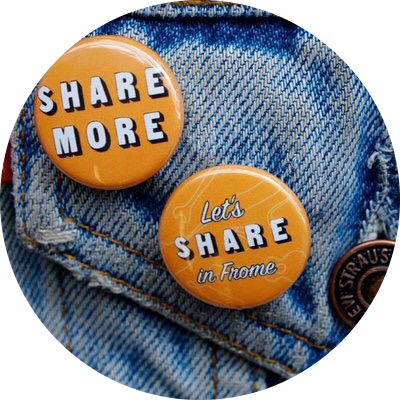 A Library of Things.
Want to hear more about of our amazing community?
Sign up below to receive our newsletter & receive updates.