As a new year rolls in, we all have great intentions for the 12 months ahead. But as time goes by, our goals can seem more daunting and less attainable. A lot of the time, this is simply because we don't know where to start! Here's a great place to start chipping away at those big goals: in the centre of Frome, at our library of things.
Here's how SHARE can help with some of the most popular New Year's Resolutions…
1. Save Money.
This one is a no-brainer. Spending a few pounds to borrow something that would usually cost you tens or even hundreds of pounds, get used once and then gather dust will save you a lot of money over time. Before splurging on something pricey like a lawn mower, consider how much you would save by borrowing one from £4, only when you need it.
Check out our membership options – subscriber members get £5 of credit per month which saves even more for regular borrowers.
2. Eat Better and Exercise More.
When it comes to exercise, we have a whole section for sports in our inventory. Our stock ranges from dumbbells and a cricket set to more unusual fare such as our two unicycles. Eating better is made easy with our stock appliances like juicers, slow cookers, spiralizers and a smoothie maker. See what works for you before buying more expensive kitchen equipment!
3. Learn a new skill or hobby.
We have several sewing machines available, as well as dressmakers' dummy and spinning wheel for the more ambitious crafters. Amateur artists may like our easel and oil painting kit. As for instruments, we have guitars, keyboards, ukeleles, microphones and music stands… and even a violin!
Or if you'd prefer to pick up something less artsy, we also have a wide range of baking accessories. Of course, we have every DIY tool you could possibly need to become handier this year!
4. Spend more time with loved ones.
We have pretty much everything you need to take the family camping! Plus a lot of different sporting and games equipment for a day spent out in the sunshine. For rainy days, we have some board games to choose from. You can even create your own "big screen" at home with one of our projectors, and get cosy on the sofa with some homemade popcorn.
5. Prioritise self-care.
More and more people are realising how vital caring for yourself is. It doesn't just benefit your mood but also helps your productivity, health, and ability to help others in the long term. Self-care could mean anything to you – a relaxing bath, a good book, a glass of wine in front of the TV, or working towards your dreams.
Stuck for ideas? Why not borrow some gardening equipment and spend some mindful time outdoors? You'll thank yourself when Spring comes and the first flowers appear!
6. Get a new job.
We can't get a new job for you, but we might be able to help you on your way! Thinking of starting your own business? Advertise your skills or services for free to build up some experience and contacts on our skills board.
Thinking of sending out job applications? Volunteering with us can help improve a range of skills from customer service, practical skills such as repairing, and building confidence with money handling and using technology. Get in touch if you'd like more information about the types of volunteer work available.
What are your New Year's Resolutions? And how can we help?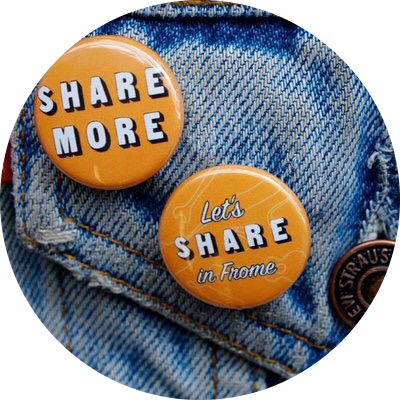 A Library of Things.
Want to hear more about of our amazing community?
Sign up below to receive our newsletter & receive updates.
Tags:
frome
,
inventory
,
new year