1. Having beavered away behind the scenes over summer, we're now ready to open an extra day per week again: From Monday 17th September we'll be open every Monday, Wednesday and Friday, 10am – 4pm.
This means no more Saturdays. We understand this may be a hinderance to one or two members who cannot come in on a weekday, but the figures suggest that for the vast majority, Saturdays are not the day you use the shop.
Having trialled the later weekday opening time for the past few months, it has proven to be a quiet time as well, so we'll be doing away with it and reverting to the consistency of 10am – 4pm.
For anyone who is unable to visit the shop during the week please do drop us an email and we'll look to see if there's an alternative arrangement we can come to.
This greater regularity of shop opening hours will allow us to make the 'default' loan length for each item two days (Mon to Weds / Weds to Fri / Fri to Mon). The new loan length applies only to our 'everyday items' – those which people tend to only require for a short amount of time. Items borrowed for excursions / required for longer periods (e.g. tents) will keep a 7 day loan length. New loan lengths will take effect on Monday 17th September.
—–
2. The drop-off point we set up for our shorter summer hours is now closed with immediate effect. We are looking in to long term solutions for an out-of-hours drop-off & pick-up point. We'll update you when we have further developments.
—–
3. Exclusive to SHARE members is 50% off hire of the Town Council's fabulous electric bicycles. You'll need to make the reservation in person in the SHARE shop in order to obtain your unique discount code.
—–
4. We are now accepting card payments! Next time you come in to the shop, we'll be able to securely process your card, allowing you to check items in and out as you please without having to worry about having cash on you.
If you'd prefer to pay by cash then of course that possibility remains.
Our membership packages have also been tweaked, with a new Pay-As-You-Go membership introduced.
The PAYG package removes the 'barrier to borrowing' for those people whose use of the shop would likely only be once in a blue moon. Under our previous packages we've had to turn these customers away. Now anyone can sign up from as little as £2 to borrow an item.
—–
5. This Sunday coming is our next REPAIR CAFE!
Join us at The Welshmill Hub (Park Hill Dr, Frome BA11 2LE) between 3pm and 5pm, this Sunday 9th September for tea, nibbles and a host of fixers ready to restore your poorly items to their former glory!
Visit the event page for full details.
Thank you so much to all of our members for your continued, valuable support and feedback, enabling us to make SHARE a greater resource for our wonderful community.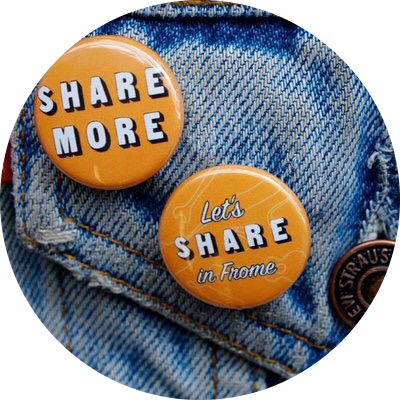 A Library of Things.
Want to hear more about of our amazing community?
Sign up below to receive our newsletter & receive updates.